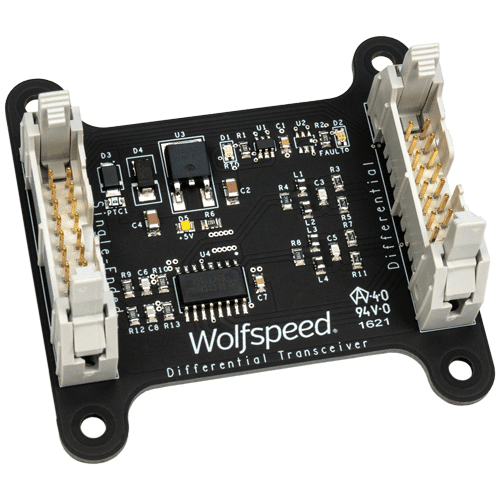 Differential Transceiver Daughter Board Companion Tool for Differential Gate Drivers
Many of Wolfspeed's power module gate driver evaluation tools are designed with differential signals to enable high noise immunity. If you prefer to work with single-ended signals; this transceiver will help you achieve the conversion in your lab.
Documents, Tools & Support
Technical & Sales Documents

Tools & Support
Documents
| Document Type | Document Name |
| --- | --- |
| User Guide | |
| Design Files | |
| Data Sheets | Differential Transceiver Companion Tool |
Read about the all new Wolfspeed WolfPACK™ power modules. These modules give designers scalability and efficiency along with maintaining the simplicity of the design.
Learn how to install and begin using Wolfspeed's newest LTSpice models for our silicon carbide power modules.
Meet key industrial low voltage motor drive energy regulations with Wolfspeed silicon carbide and enable up to 2.5% overall efficiency improvement while overcoming thermal limitations that plague traditional silicon IGBTs.