Introducing Our Mohawk Valley Fab
The world's first, largest and only 200mm Silicon Carbide fab is officially open for business.
Unleashing the Power of PossibilitiesTM
In every industry, silicon has taken a back seat to the far superior performance of Wolfspeed's Silicon Carbide and GaN electronics. Our founders pioneered Silicon Carbide and GaN solutions for both High Power and RF applications, and Wolfspeed remains the sole vertically integrated supplier for both industry sectors.
---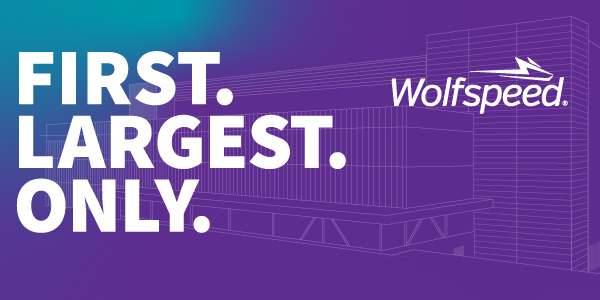 PCIM 2022
Visit Wolfspeed in person at PCIM May 10th – 12th in Nuremberg, Germany. PCIM is the world's largest power electronics conference, where attendees can learn about the latest industry trends and innovations. Wolfspeed is excited to present Scale and Scalability for a rapidly growing Silicon Carbide market. Visit us at booth 7-435 to learn more.
---
Products
Pursue a more efficient future with Silicon Carbide and GaN solutions for power electronics, RF, substrates and epitaxy.
Applications
Choose from the most field-tested Silicon Carbide and GaN technologies in any field.
---
---
Capacity Expansion
We have built the world's largest Silicon Carbide fabrication facility in Marcy, New York. This brand new, state-of-the-art power wafer fabrication facility will be automotive-qualified and 200mm-capable. It is complemented by our mega materials factory expansion currently underway at our Durham, North Carolina headquarters.
---
Designing with Silicon Carbide in Unidirectional On-Board Chargers
Wolfspeed Silicon Carbide MOSFETs address many power design challenges by providing devices with low on-resistance, very low output capacitance, and low source inductance for a perfect blend of low switching losses and low conduction losses. Read on to learn how these advantages are applied in higher-power unidirectional OBCs.
3.6kW Bridgeless Totem-Pole PFC Reference Design Training
Join Yuequan Hu, Power Applications Engineer with Wolfspeed, as he demonstrates the application of Wolfspeed's C3M™ 650 V Silicon Carbide MOSFET Technology in TOLL package to create a 3.6kW bridgeless totem-pole PFC for server power supply, data center power supply, mining power supply, and telecom systems.