Jaguar TCS Racing, Powered by Wolfspeed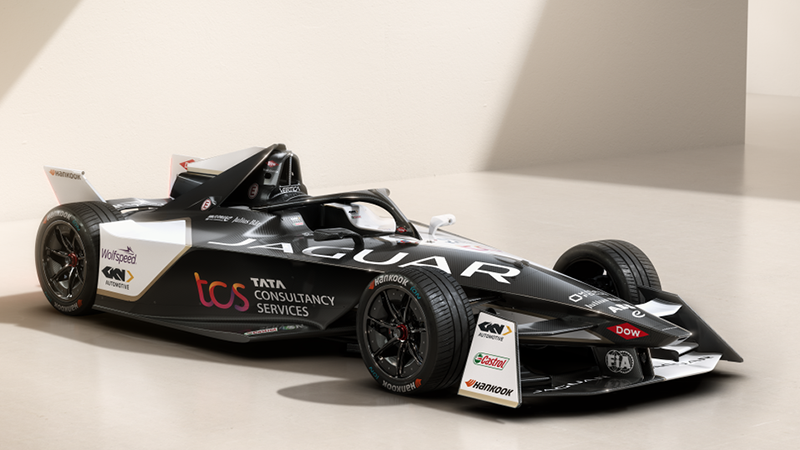 Wolfspeed represents more than 35 years of innovation and pushing the limits of what's possible with relentless passion and ingenuity. Our wide bandgap Silicon Carbide devices enable faster, more efficient charging and increase the range of electric vehicles.
We're already known for pushing the limits of what's possible:  Wolfspeed's Silicon Carbide semiconductors have been used in Jaguar TCS Racing Formula E team's in-house developed powertrains since 2017. Earlier this year, Wolfspeed and Jaguar Land Rover announced a strategic partnership to supply Silicon Carbide semiconductors for next generation electric vehicles.
We are now expanding that relationship, as Wolfspeed becomes the Official Power Semiconductor Partner to Jaguar TCS Racing.
This creates an innovation lab on wheels, and in collaboration with Jaguar TCS Racing, we will take insights gained from the racetrack and deliver them to roads and motorways throughout the world. We can't usher in a new era of energy efficiency without the support of others. Through our strategic partnership with Jaguar TCS Racing, we will continue to pioneer the electric driving experience and support an all-electric transportation future for all.
---
"Our Silicon Carbide semiconductor technology in the Jaguar I-TYPE 6 creates an 'Innovation Lab on Wheels' to engineer improved powertrain efficiency in a high-performance electric vehicle. Our collaboration with Jaguar TCS Racing in the ABB FIA Formula E World Championship will support our shared goal of translating innovation from the race to the road and enable Wolfspeed to support Jaguar TCS Racing as the ultimate competitor on the track."
– Jay Cameron, SVP and General Manager of Power
---
The Jaguar I-TYPE 6 race car was unveiled in London with drivers Mitch Evans and Sam Bird, along with Team Principal James Barclay

---
In The Studio | Powering the Silicon Carbide Ecosystem
A global provider of technology products, services and solutions, Arrow Electronics is uniquely positioned to support customers in the transition to Silicon Carbide. Join Aiden Mitchell, Sr. VP of Global Marketing & Engineering, and Guy Moxey as they explore the rapidly growing global race toward electrifying everything.
SpeedVal Kit™ Platform Eases Evaluation with Modular Approach
Speed the transition from silicon to Silicon Carbide with the SpeedVal Kit, the industry's first modular Silicon Carbide evaluation platform providing a flexible set of building blocks for in-circuit evaluation of Wolfspeed Silicon Carbide MOSFETs.
Explore Wolfspeed's SpeedVal Kit™ With Our Interactive Experience
Walk through the flexible set of power building blocks that SpeedVal Kit™ offers with this interactive experience. Learn how this modular evaluation platform is empowering engineers to evaluate, compare and optimize the high-speed, dynamic switching performance of Wolfspeed Silicon Carbide MOSFETs in a matter of minutes.