7.5 kW FM3 Three-Phase Motor Drive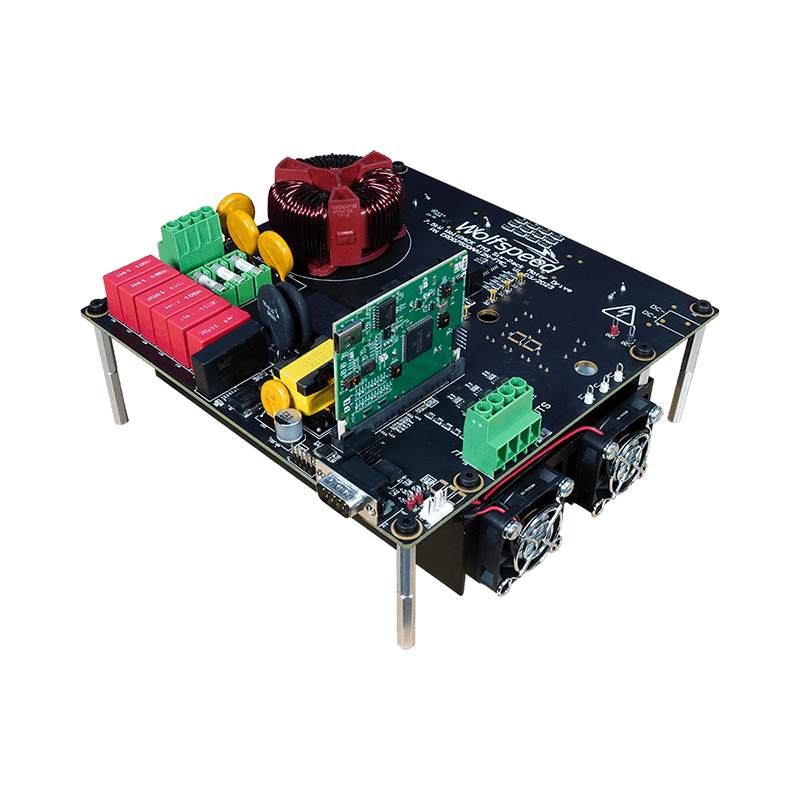 CRD07500AA12N-FMC
This reference design demonstrates the application of Wolfspeed's WolfPACK™ FM3 power modules to create a high power density three-phase inverter acting as the output stage of a complete industrial motor drive solution. The Wolfspeed WolfPACK™ FM3 power module platform is optimized for Silicon Carbide MOSFETs in a high-density, low-inductance footrpint, which reduces system level losses and simplifies the overall system design. As a complete industrial motor drive solution, this design includes everything you need to quickly implement closed-loop motor control to achieve your design goals.
Flexible Operating Conditions 
AC to AC with DC link
General purpose controller
Customizable firmware
Integrated encoder feedback measurement
Isolated CAN communication
Integrated EMI filter
Single Power Module Solution 
32 mΩ six-pack module
All Silicon Carbide MOSFETs
Integrated temperature sensor
Baseplateless package with isolated alumina substrate
Specifications
Output power of 7.5 kW
Switching frequency of 100 kHz
Input/output voltage of 480 VAC
Applications
Industrial Motor Drives
Heat Pump and Air Conditioning
What's Included
User Guide
Schematics
PCB Layout
BOM
3D Model
Documents, Tools & Support
Technical & Sales Documents

Tools & Support
Documents
| Document Type | Document Name |
| --- | --- |
| Application Notes | |
| User Guide | |
| User Guide | |
| Design Files | |
| Design Files | |
| Design Files | |
| Design Files | |
| Design Files | |
| Videos | |
| Sales Sheets & Flyers | |
| Sales Terms | |
Read about the all new Wolfspeed WolfPACK™ power modules. These modules give designers scalability and efficiency along with maintaining the simplicity of the design.
Learn how to install and begin using Wolfspeed's newest LTSpice models for our silicon carbide power modules.
Meet key industrial low voltage motor drive energy regulations with Wolfspeed silicon carbide and enable up to 2.5% overall efficiency improvement while overcoming thermal limitations that plague traditional silicon IGBTs.