60 kW Interleaved LLC Converter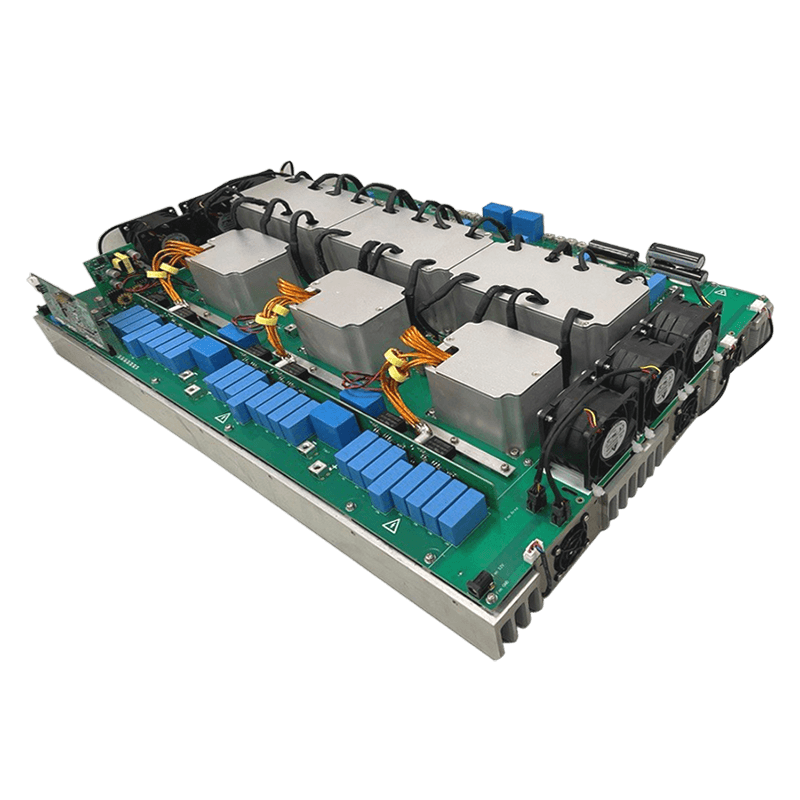 CRD-60DD12N-K
The 60 kW 3-phase interleaved LLC DC-DC converter (CRD-60DD12N-K) doubles the power level of the previous 30 kW design (CRD-30DD12N-K) and targets high-power-density, high-efficiency fast charger applications and features Wolfspeed's discrete 1200 V C3M Silicon Carbide MOSFETs (C3M0040120K or C3M0032120K) and 650 V C6D Silicon Carbide Schottky diodes (C6D20065D). A 3-phase interleaved LLC topology is implemented to provide low input current ripple and high efficiency for EV high power fast chargers. Paralleling two discrete power devices offers an effective solution at a power level historically accomplished with power modules. The reference design accommodates all levels of EV charging with a wide output voltage range of 200 V-1000 V while maintaining a high power density of 4.83 kW/L and higher than 98.5% peak efficiency. The adaptive control operates over a 120 kHz-250 kHz switching frequency range to maintain optimal control over all operating conditions. To achieve the listed output voltage range, input voltage must be actively adjusted between 650V and 900V. In the end application, this can be achieved using an active-front-end AC-DC converter. The secondary side of the converter is manually configurable for series or parallel operation depending on the output voltage range required.
The design accomplishes:
Peak efficiencies over 98.5%
Power density of 4.83 kW/L
This reference design is offered as a comprehensive design package which can be used as a starting point for new SiC designs.
Parallel Output Configuration

Output Voltage:

200 V – 250 V DC, 133 A max
250 V – 500 V DC, 200 A max, 60 kW max
Series Output Configuration

Output Voltage:

500 V – 1000 V DC, 100 A max, 60 kW max

Switching Frequency: 120 – 250 kHz
Forced air cooling
CAN interface with PC based graphical user interface
Applications
EV Fast Charging
HVDC
Enterprise server / telecom
Industrial power supplies
What's Included
Reference Design Files for:
Main board
Controller Board
Driver Board
Aux Power Board
Resonant Capacitor Board
Request Separately
Mechanical Specifications
Documents, Tools & Support
Block Diagram

Technical & Sales Documents

Tools & Support
Read about the all new Wolfspeed WolfPACK™ power modules. These modules give designers scalability and efficiency along with maintaining the simplicity of the design.
Learn how to install and begin using Wolfspeed's newest LTSpice models for our silicon carbide power modules.
Meet key industrial low voltage motor drive energy regulations with Wolfspeed silicon carbide and enable up to 2.5% overall efficiency improvement while overcoming thermal limitations that plague traditional silicon IGBTs.