Cree and Gospower Deliver Silicon Carbide to Server Power Supply Market
Silicon carbide-based devices support next-generation data centers designed for the rapidly evolving storage environment
DURHAM, N.C. – Cree, Inc. (Nasdaq: CREE), the global leader in silicon carbide technology through its Wolfspeed business, today announced that Shenzhen Gospower Digital Technology Co.,Ltd. (brand: Gospower), a national high-tech enterprise and leader in power electronics converters, will utilize Cree's Wolfspeed®650V silicon carbide MOSFETs for next generation Common Redundant Power Supply (CRPS) solutions. As the demand for cloud-based storage continues to rapidly expand, Gospower will leverage Wolfspeed's silicon carbide technology to deliver power efficiencies that will boost China's entire power server market and better support the country's digital storage demands.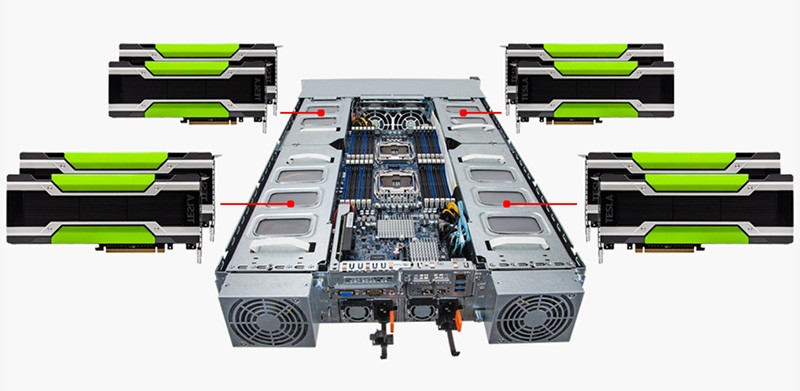 Server and computing power supply demands are increasing significantly due to rapid developments in the cloud, artificial intelligence, distributed storage and 5G industries. Wolfspeed's 650V silicon carbide MOSFETs offer high efficiency through low switching and conduction losses, as well as high power density features including smaller footprints, lighter weight and fewer components. Customers benefit from lower total cost of ownership through the more efficient use of power, reduced cooling requirements, and industry-leading reliability, enabling faster rollout of industry-leading server power supply solutions.
"To meet the growing need for a power supply solution that has higher efficiency, smaller size and high power density, we partnered with Cree to utilize its Wolfspeed® 650V silicon carbide MOSFETs to create an application that will help transform the Chinese server market. Our next generation CRPS solution will enable Gospower to be a leader in this sector and to efficiently support China's data storage needs," said Mr. Ruan Shiliang, Gospower CEO.
Gospower developed a 2400W/2600W 185mm CRPS solution that utilizes Wolfspeed silicon carbide MOSFETS in the totem pole bridgeless power factor correction (PFC) design. This device creates a highly efficient, reliable and cost-effective solution that operates under higher temperatures and features lower switching losses, zero reverse recovery, and high power density, all in a smaller size.
"As a pure-play global semiconductor powerhouse, Cree is well positioned to lead the transition from silicon to silicon carbide," said Gregg Lowe, Cree CEO. "Across the globe, our Wolfspeed® silicon carbide devices are advancing technological solutions by increasing efficiency and performance with smaller, more scalable power systems. This solution will help advance the power supply sector and is a testament to the innovations that are made possible by silicon carbide when we collaborate with industry leaders such as Gospower."
Gospower's strong history of advanced technological innovations combined with Cree's Wolfspeed silicon carbide technology enables a best-in-class server device.
For more than 30 years, the company has served as the global leader in silicon carbide technology and production, leading the worldwide transition from silicon to silicon carbide. Customers leverage the Wolfspeed® product portfolio for disruptive technology solutions that support a more efficient, sustainable future including electric vehicles, fast charging, 5G, power supplies, renewable energy and storage, as well as aerospace and defense. Our people are dedicated to driving a significant shift in the technology sector and creating a global semiconductor powerhouse. For additional product and Company information, please refer to www.cree.com.
About Shenzhen Gospower Digital Technology Co.,Ltd.:
Shenzhen Gospower Digital technology Co., Ltd (brand: Gospower), established in 2006, is company focus on power electronics products, including power products for networking device, sever, gaming computer, Computing device, telecom system, energy storage and Electric vehicles. Gospower owns two office places including a R&D center and a manufacturing center of 30,000 square meters. it has nearly 1000 employees, including more than 200 R&D engineers, the company is a state-level high- tech enterprise, after more 15 years developing, Gospower has now developed into a world-renowned enterprise power solution supplier and manufacturer.
Forward Looking Statements:
This press release contains forward-looking statements involving risks and uncertainties, both known and unknown, that may cause actual results to differ materially from those indicated. Actual results may differ materially due to a number of factors, including the risk that we may be unable to manufacture these new products with sufficiently low cost to offer them at competitive prices or with acceptable margins; the risk we may encounter delays or other difficulties in ramping up production of our capacity to supply these products; customer acceptance of our products; the rapid development of new technology and competing products that may impair demand or render Cree's products obsolete; and other factors discussed in Cree's filings with the Securities and Exchange Commission, including its report on Form 10-K for the year ended June 28, 2020, and subsequent filings.
Cree® and Wolfspeed® are registered trademarks of Cree, Inc.
Media Relations Contact:
Claire Simmons
Cree, Inc.
Director of Public Relations
csimmons@cree.com
919-407-7844