Mohawk Valley Fab
The World's First, Largest, and Only 200mm Silicon Carbide Manufacturing Facility
Watch the Ribbon Cutting, Live from Mohawk Valley
The event livestream includes remarks by New York's Governor Hochul, Oneida County Executive Anthony Picante, Lucid Motor's SVP and Chief Engineer Eric Bach and Wolfspeed CEO Gregg Lowe. Plus, interviews live from the world's first, largest and only 200mm Silicon Carbide fabrication facility.
---
Expanding Capacity for Silicon Carbide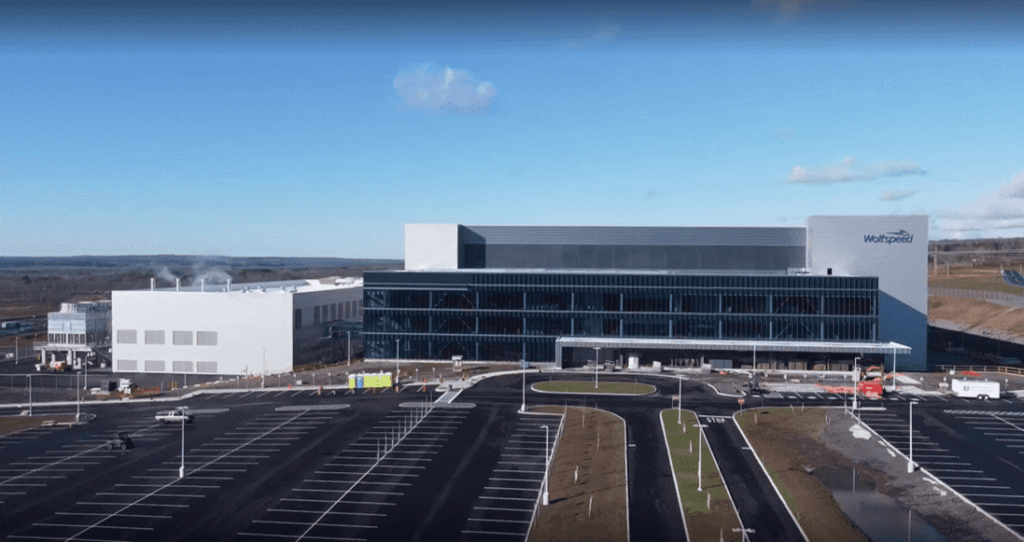 At Wolfspeed, we are driving the industry transition from silicon to Silicon Carbide. To meet the increasing demand for our groundbreaking Wolfspeed technology that supports the growing electric vehicle (EV), 4G/5G mobile and industrial markets, we are establishing a Silicon Carbide corridor on the East Coast of the United States.
We have built the world's first, largest, and only 200mm Silicon Carbide fabrication facility in Marcy, New York. This brand new, fully automated power wafer fabrication facility will be automotive-qualified as well. It is complemented by our mega materials factory expansion currently underway at our Durham, North Carolina headquarters. The new fabrication facility dramatically increases capacity for our Wolfspeed Silicon Carbide business and supports the transition from silicon to Silicon Carbide.

Wolfspeed continues to invest aggressively in Silicon Carbide manufacturing and research in order to support the growing, global demand for our technologies, and we believe advanced semiconductor manufacturing is essential to leading the acceleration of critical next-generation technologies.
Expanding with the Environment in Mind
We continuously explore options for environmental-related improvement projects to help offset our expansion efforts. The following initiatives are planned to be implemented at our new Mohawk Valley Fab.
Our new Mohawk Valley Fab is planned to be LEED certified
of annual energy savings are built into the design of our new fab
of our electricity will be from carbon-free or low carbon sources
of annual water savings are built into the design of our new fab
of water planned to be recycled per day at our new fab
new electric vehicle (EV) charging stations planned to be installed
Ribbon Cutting Highlights
A Lucid Air electric vehicle cuts the ribbon at the new Wolfspeed Silicon Carbide 200mm fabrication facility, Marcy, New York.
Investing and Partnering in the Mohawk Valley to Build a High-Tech Workforce
As part of our ongoing, long-term commitment to the Mohawk Valley, we are working with academic institutions and other community and economic development partners to help expand the local economy and create a pipeline of high-tech professionals. We recently announced funding the Wolfspeed Scholarship and two endowed faculty chairs, named for two of Wolfspeed's co-founders, John Edmond and John Palmour, to help ensure students who come from historically underserved or marginalized communities, as well as those with significant financial need, have greater access to the educational opportunities that will equip them to excel as part of tomorrow's high-tech workforce.
Partnering to Build a Pipeline of High-Tech Professionals
We are working with education and business partners across the region to establish a robust pipeline for the next generation of high-quality, high tech jobs in the Mohawk Valley, including those we will need in advanced manufacturing. Our culture fosters an inclusive workplace, and our hiring efforts develop employees from the communities where we operate. We fuel long-term growth opportunities for our team through an internal mobility practice that combines ongoing workforce development, leadership training, education assistance and career path planning.
---
Giving Back to the Communities Where We Live and Work
Investing in and giving back to the communities where we live and work is part of who we are as a team, and we are excited to extend these investments to the Mohawk Valley. Since announcing the construction of our new fabrication facility, we've worked with partners such as SUNY Poly, Mohawk Valley Community College, and multiple community-based agencies to help build the local economy, develop local talent, support STEM education at multiple levels and help our new neighbors in need.
---
Mohawk Valley Announcements
Give Back Activities
We believe every individual should have a roof over their heads, food to eat and an opportunity to excel. Whether through corporate events and sponsorships or employee-led initiatives, we live our values by doing the right thing at work and in our local communities.
The Wolfspeed Mohawk Valley Team loads up 200 turkeys purchased from Utica local marketplace, Chanatry's, to be donated to the Rescue Mission of Utica.
---
In The Studio: The History, Transition and Trends of Silicon Carbide
Join Wolfspeed's Guy Moxey and special guest Bodo Arlt, founder of Bodo's Power Systems, at PCIM as they discuss the history of silicon, the big milestones bringing us to today's breakthrough markets enabled by Silicon Carbide, and the future being all about wide bandgap semiconductors.
In The Studio: Energy Efficiency | Renewables, EV and Beyond
Guy Moxey and special guest Maurizio Di Paolo Emilio, Editor-in-Chief of Power Electronic News and EEWeb, discuss cutting-edge applications powered by Silicon Carbide. Take a walk through the advantages of high-powered devices and explore the emerging systems enabled by Silicon Carbide.
In The Studio: Silicon Carbide vs GaN vs Silicon
Silicon Carbide, GaN, and silicon all have their place, but how do you know which is the best fit for your power system? Guy Moxey and special guest John Palmour, CTO and Co-Founder of Wolfspeed, take up this debate in the first edition of In the Studio. Join them as they discuss the merits and tradeoffs of Silicon Carbide vs GaN vs silicon.