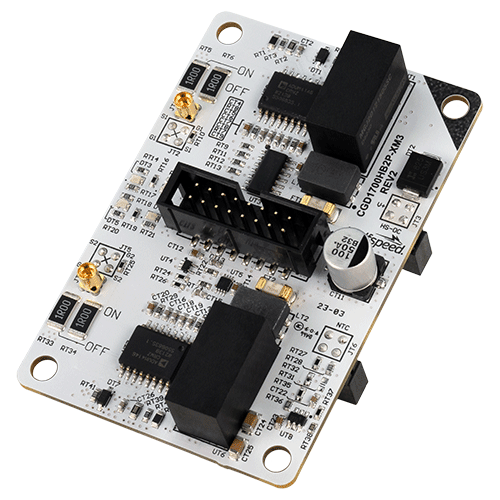 Evaluation Gate Driver Tool Optimized for the 1700 V XM3 Module Platform
Wolfspeed's CGD1700HB2P-XM3 is a form-factor-fitting; two-channel gate driver for the XM3 module platform. Each of the two gate drive channels features over-current protection, an active Miller clamp, and separate turn-on and turn-off gate resistors for effortlessly tuning switching speeds. Onboard 2 W isolated power supplies support up to 80 kHz switching frequency. The gate driver board features MMCX connectors to accurately measure high-side and low-side VGS with fiber optically isolated probes such as the TIVP1 from Tektronix®.
Silicon Carbide (SiC) Products Supported
XM3 Half-Bridge Power Module Products Supported:
Documents, Tools & Support
Technical & Sales Documents

Tools & Support
Documents
| Document Type | Document Name |
| --- | --- |
| Application Notes | |
| Application Notes | |
| Application Notes | |
| Application Notes | |
| Design Files | |
| Data Sheets | |
| Models | |
| Product Catalog | |
| Sales Sheets & Flyers | |
| Sales Sheets & Flyers | |
| Sales Terms | |
Now more than ever, engineers are being asked to design residential, commercial, and industrial solar energy systems that are compact, lightweight, and simple to set up. All of this can be achieved, including a 3% higher efficiency boost, with Wolfspeed Silicon Carbide. Join this webinar where our expert will demonstrate how Wolfspeed Silicon Carbide outperforms, increases power density, and lowers overall system costs.
Wolfspeed is working with Shenzhen Sinexcel Electric Co., a global leading supplier of energy internet core power equipment and solutions, to supply Wolfspeed WolfPACK silicon carbide power modules for next generation Active Power Filter (APF) and Static Var Generator (SVG) of Power Quality Solutions.
Shine a light under the hoods of today's most advanced EVs and learn about the technology pushing the EV revolution ahead of the curve with Wolfspeed's "What's Under the Hood?" eBook that is designed to educate, inform and inspire electric vehicle designers and drivers.