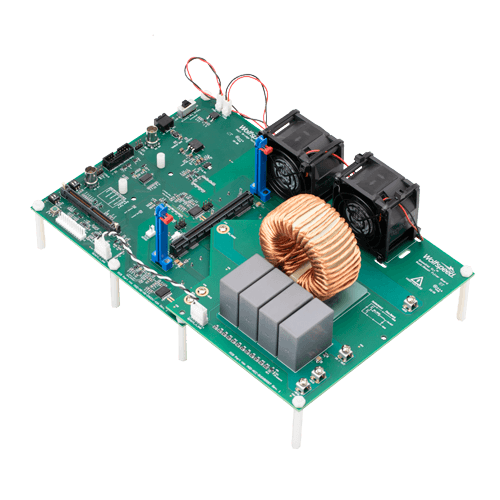 Easily perform high-power buck or boost testing
The SpeedVal Kit Evaluation Platform has an optional Buck/Boost Filter Accessory Board that seamlessly enables Buck or Boost. This board contains an inductor, capacitors and a fan, and easily screws directly onto the SpeedVal Kit half-bridge motherboard with high-current connections. ​ With this board, you can easily change between running the system as a buck or boost converter by simply changing the connections to this board from the power supply and load.
Specifications
Reconfigurable to enable buck or boost operation​
Maximum voltage: 900 V​
Multiple power ratings available ​
Simplifies system-level testing
What's Included
Fully assembled filter board​
Voltage feedback harness​
Fan for cooling the inductor​
Complete design files
Documents, Tools & Support
Block Diagram

Technical & Sales Documents

Tools & Support
Read about the all new Wolfspeed WolfPACK™ power modules. These modules give designers scalability and efficiency along with maintaining the simplicity of the design.
Learn how to install and begin using Wolfspeed's newest LTSpice models for our silicon carbide power modules.
Meet key industrial low voltage motor drive energy regulations with Wolfspeed silicon carbide and enable up to 2.5% overall efficiency improvement while overcoming thermal limitations that plague traditional silicon IGBTs.