Trains & Traction
The higher operational speeds of Wolfspeed SiC components give designers the tools to create railcar power systems which are up to 50% smaller and 30% lighter than existing systems.
Wolfspeed SiC Solutions for Trains and Traction
A locomotive can pull a mile of train cars thanks to the high-torque electric traction motor. Electric vehicles, roller coasters, and a vast assortment of transportation categories the world over also use this technology, which is controlled by switching electrical current frequency and voltage and through manipulation of magnetic fields. But did you know that all of it runs more efficiently and more reliably because of Wolfspeed Silicon Carbide (SiC) solutions?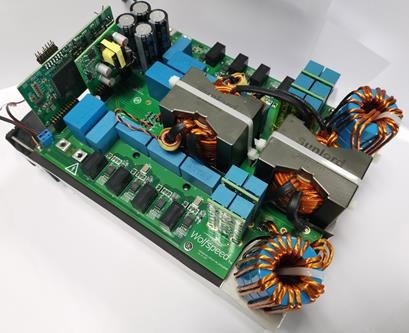 Trains and traction, powered by Wolfspeed Silicon Carbide
When railcar power system engineers design with Wolfspeed Silicon Carbide, they are able to deliver solutions that are smaller and lighter than systems built on traditional silicon. With Wolfspeed Silicon Carbide, engineers can use fewer components to perform the same jobs at higher levels of performance due to the unique power characteristics of wide-bandgap silicon carbide.
Wolfspeed — minimize size without sacrificing performance
Wolfspeed Silicon Carbide is built for the future of train and traction power system design. Wolfspeed Silicon Carbide offers unparalleled performance, with lower thermal losses and increased reliability. For railcar systems in which failure can mean supply chain disruption (or worse), turn to Wolfspeed SiC.
Wolfspeed SiC Products for Train and Traction System Design
Railcar power systems are demanding — but Wolfspeed is up to the challenge. Explore our products to learn more about how Wolfspeed Silicon Carbide can work for you.
1200V Discrete Silicon Carbide MOSFETs for Trains & Traction
No filters selected, showing all 16 products
1200V Discrete Silicon Carbide MOSFETs for Trains & Traction - Filter By
1200V Discrete Silicon Carbide MOSFETs for Trains & Traction
| | | | | | | RDS(ON) at 25°C | | | | | Total Power Dissipation (PTOT) | Maximum Junction Temperature | |
| --- | --- | --- | --- | --- | --- | --- | --- | --- | --- | --- | --- | --- | --- |
| | | | | | 1200 V | 350 mΩ | Gen 3 | 7.2 A | 13 nC | 20 pF | 40.8 W | 150 °C | TO-263-7 |
| | | | | | 1200 V | 160 mΩ | Gen 3 | 17 A | 38 nC | 39 pF | 97 W | 150 °C | TO-247-3 |
| | | | | | 1200 V | 75 mΩ | Gen 3 | 30 A | 54 nC | 58 pF | 113.6 W | 150 °C | TO-247-3 |
| | | | | | 1200 V | 75 mΩ | Gen 3 | 30 A | 51 nC | 58 pF | 113.6 W | 150 °C | TO-263-7 |
| | | | | | 1200 V | 75 mΩ | Gen 3 | 32 A | 51 nC | 58 pF | 113.6 W | 150 °C | TO-247-4 |
| | | | | | 1200 V | 75 mΩ | Gen 3 | 32 A | 57 nC | 58 pF | 145 W | 175 °C | TO-247-3 |
| | | | | | 1200 V | 75 mΩ | Gen 3 | 32 A | 55 nC | 58 pF | 145 W | 175 °C | TO-247-4 |
| | | | | | 1200 V | 32 mΩ | Gen 3 | 63 A | 114 nC | 129 pF | 283 W | 175 °C | TO-247-3 |
| | | | | | 1200 V | 32 mΩ | Gen 3 | 63 A | 118 nC | 129 pF | 283 W | 175 °C | TO-247-4 |
| | | | | | 1200 V | 40 mΩ | Gen 3 | 66 A | 101 nC | 103 pF | 326 W | 175 °C | TO-247-3 |
| | | | | | 1200 V | 40 mΩ | Gen 3 | 66 A | 99 nC | 103 pF | 326 W | 175 °C | TO-247-4 |
| | | | | | 1200 V | 32 mΩ | Gen 3 | 68 A | 111 nC | 133 pF | 277 W | 150 °C | TO-263-7 |
| | | | | | 1200 V | 21 mΩ | Gen 3 | 81 A | 160 nC | 180 pF | 469 W | 175 °C | TO-247-3 |
| | | | | | 1200 V | 21 mΩ | Gen 3 | 100 A | 162 nC | 180 pF | 469 W | 175 °C | TO-247-4 |
| | | | | | 1200 V | 16 mΩ | Gen 3 | 115 A | 207 nC | 230 pF | 556 W | 175 °C | TO-247-3 |
| | | | | | 1200 V | 16 mΩ | Gen 3 | 115 A | 211 nC | 230 pF | 556 W | 175 °C | TO-247-4 |
1200V Discrete Silicon Carbide Schottky Diodes for Trains & Traction
No filters selected, showing all 25 products
1200V Discrete Silicon Carbide Schottky Diodes for Trains & Traction - Filter By
1200V Discrete Silicon Carbide Schottky Diodes for Trains & Traction
| | | | | | | | | Forward Voltage(VF(type)) | Maximum Continuous Current (IF) | Total Capacitive Charge (QC (typ)) | Total Power Dissipation (PTOT) | |
| --- | --- | --- | --- | --- | --- | --- | --- | --- | --- | --- | --- | --- |
| | | | | | 1200 V | 2 A | Gen 4 | 1.4 V | 2 A | 11 nC | 60 W | TO-220-2 |
| | | | | | 1200 V | 2 A | Gen 4 | 1.4 V | 2 A | 11 nC | 52 W | TO-252-2 |
| | | | | | 1200 V | 2 A | Gen 4 | 1.4 V | 2 A | 16 nC | 50 W | TO-252-2 |
| | | | | | 1200 V | 5 A | Gen 4 | 1.4 V | 5 A | 27 nC | 81 W | TO-220-2 |
| | | | | | 1200 V | 5 A | Gen 4 | 1.4 V | 5 A | 27 nC | 97 W | TO-252-2 |
| | | | | | 1200 V | 8 A | Gen 4 | 1.5 V | 8 A | 37 nC | 120 W | TO-220-2 |
| | | | | | 1200 V | 8 A | Gen 4 | 1.5 V | 8 A | 37 nC | 137 W | TO-252-2 |
| | | | | | 1200 V | 10 A | Gen 4 | 1.5 V | 10 A | 56 nC | 166 W | TO-220-2 |
| | | | | | 1200 V | 10 A | Gen 4 | 1.5 V | 10 A | 52 nC | 136 W | TO-220-2 |
| | | | | | 1200 V | 10 A | Gen 4 | 1.4 V | 10 A | 54 nC | 187 W | TO-247-3 |
| | | | | | 1200 V | 10 A | Gen 4 | 1.5 V | 10 A | 52 nC per leg | 170 W | TO-252-2 |
| | | | | | 1200 V | 10 A | Gen 4 | 1.4 V | 10 A | 52 nC | 136 W | TO-247-2 |
| | | | | | 1200 V | 15 A | Gen 4 | 1.6 V | 15 A | 77.5 nC | 192 W | TO-220-2 |
| | | | | | 1200 V | 15 A | Gen 4 | 1.5 V | 15 A | 37 nC per leg | 270 W | TO-247-3 |
| | | | | | 1200 V | 15 A | Gen 4 | 1.5 V | 15 A | 77.5 nC | 174.5 W | TO-247-2 |
| | | | | | 1200 V | 20 A | Gen 4 | 1.5 V | 20 A | 52 nC per leg | 176 W | TO-247-3 |
| | | | | | 1200 V | 20 A | Gen 4 | 1.5 V | 20 A | 99 nC | 242 W | TO-220-2 |
| | | | | | 1200 V | 20 A | Gen 4 | 1.5 V | 20 A | 99 nC | 242 W | TO-220-2 |
| | | | | | 1200 V | 20 A | Gen 4 | 1.5 V per leg | 20 A | 52 nC per leg | 352 W | TO-247-3 |
| | | | | | 1200 V | 20 A | Gen 4 | 1.5 V | 20 A | 99 nC | 246 W | TO-247-2 |
| | | | | | 1200 V | 20 A | Gen 4 | 1.5 V | 20 A | 110 nC | 250 W | TO-263-2 |
| | | | | | 1200 V | 30 A | Gen 4 | 1.5 V | 30 A | 152 nC | 441 W | TO-247-2 |
| | | | | | 1200 V | 30 A | Gen 4 | 1.6 V per leg | 30 A | 77.5 nC per leg | 440 W | TO-247-3 |
| | | | | | 1200 V | 40 A | Gen 4 | 1.5 V | 40 A | 167 nC | 667 W | TO-247-2 |
| | | | | | 1200 V | 40 A | Gen 4 | 1.5 V per leg | 40 A | 99 nC per leg | 532 W | TO-247-3 |
Wolfspeed WolfPACK™ Silicon Carbide Power Modules Family
No filters selected, showing all 24 products
Wolfspeed WolfPACK™ Silicon Carbide Power Modules Family - Filter By
Wolfspeed WolfPACK™ Silicon Carbide Power Modules Family
| | | | | | | | | | RDS(ON) at 25°C | | Maximum Junction Temperature | | |
| --- | --- | --- | --- | --- | --- | --- | --- | --- | --- | --- | --- | --- | --- |
| | | | | | GM3 | Half-Bridge | 1200 V | 200 A | 6 mΩ | Gen 3 MOS | 150 °C | 62.8 mm x 56.7 mm | |
| | | | | | GM3 | Half Bridge (AlN substrate) | 1200 V | 200 A | 6 mΩ | Gen 3 MOS | 150 °C | 62.8 mm x 56.7 mm | |
| | | | | | GM3 | Half-Bridge | 1200 V | 200 A | 6 mΩ | Gen 3 MOS | 150 °C | 62.8 mm x 56.7 mm | |
| | | | | | GM3 | Half Bridge (AlN substrate) | 1200 V | 200 A | 6 mΩ | Gen 3 MOS | 150 °C | 62.8 mm x 56.7 mm | |
| | | | | | GM3 | Half Bridge (AlN substrate) | 1200 V | 181 A | 8 mΩ | Gen 3 MOS | 150 °C | 62.8 mm x 56.7 mm | |
| | | | | | GM3 | Half-Bridge | 1200 V | 160 A | 8 mΩ | Gen 3 MOS | 150 °C | 62.8 mm x 56.7 mm | |
| | | | | | GM3 | Half-Bridge | 1200 V | 160 A | 8 mΩ | Gen 3 MOS | 150 °C | 62.8 mm x 56.7 mm | |
| | | | | | GM3 | Half Bridge (AlN substrate) | 1200 V | 181 A | 8 mΩ | Gen 3 MOS | 150 °C | 62.8 mm x 56.7 mm | |
| | | | | | FM3 | Half-Bridge | 1200 V | 117 A | 11 mΩ | Gen 3 MOS | 150 °C | 62.8 mm x 33.8 mm | |
| | | | | | FM3 | Half-Bridge | 1200 V | 117 A | 11 mΩ | Gen 3 MOS | 150 °C | 62.8 mm x 33.8 mm | |
| | | | | | GM3 | Half-Bridge | 1200 V | 141 A | 11 mΩ | Gen 3 MOS | 150 °C | 62.8 mm x 56.7 mm | |
| | | | | | GM3 | Half-Bridge | 1200 V | 141 A | 11 mΩ | Gen 3 MOS | 150 °C | 62.8 mm x 56.7 mm | |
| | | | | | FM3 | Half-Bridge | 1200 V | 84 A | 16 mΩ | Gen 3 MOS | 150 °C | 62.8 mm x 33.8 mm | |
| | | | | | FM3 | Half-Bridge | 1200 V | 84 A | 16 mΩ | Gen 3 MOS | 150 °C | 62.8 mm x 33.8 mm | |
| | | | | | GM3 | Six-pack (three-phase) | 1200 V | 50 A | 16 mΩ | Gen 3 MOS | 150 °C | 62.8 mm x 56.7 mm | |
| | | | | | GM3 | Six-pack (three-phase) | 1200 V | 50 A | 16 mΩ | Gen 3 MOS | 150 °C | 62.8 mm x 56.7 mm | |
| | | | | | FM3 | Six-pack (three-phase) | 1200 V | 30 A | 21 mΩ | Gen 3 MOS | 150 °C | 62.8 mm x 33.8 mm | |
| | | | | | FM3 | Full-Bridge | 1200 V | 48 A | 21 mΩ | Gen 3 MOS | 150 °C | 62.8 mm x 33.8 mm | |
| | | | | | FM3 | Six-pack (three-phase) | 1200 V | 30 A | 21 mΩ | Gen 3 | 150 °C | 62.8 mm x 33.8 mm | |
| | | | | | FM3 | Full-Bridge | 1200 V | 48 A | 21 mΩ | Gen 3 MOS | 150 °C | 62.8 mm x 33.8 mm | |
| | | | | | FM3 | Six-pack (three-phase) | 1200 V | 30 A | 32 mΩ | Gen 3 MOS | 150 °C | 62.8 mm x 33.8 mm | |
| | | | | | FM3 | Full-Bridge | 1200 V | 37 A | 32 mΩ | Gen 3 MOS | 150 °C | 62.8 mm x 33.8 mm | |
| | | | | | FM3 | Six-pack (three-phase) | 1200 V | 30 A | 32 mΩ | Gen 3 MOS | 150 °C | 62.8 mm x 33.8 mm | |
| | | | | | FM3 | Full-Bridge | 1200 V | 37 A | 32 mΩ | Gen 3 MOS | 150 °C | 62.8 mm x 33.8 mm | |
62mm (BM2 & BM3) Silicon Carbide Half-Bridge Power Modules
No filters selected, showing all 11 products
62mm (BM2 & BM3) Silicon Carbide Half-Bridge Power Modules - Filter By
62mm (BM2 & BM3) Silicon Carbide Half-Bridge Power Modules
| | | | | | | | | RDS(ON) at 25°C | | Maximum Junction Temperature | | |
| --- | --- | --- | --- | --- | --- | --- | --- | --- | --- | --- | --- | --- |
| | | | | 62mm | Half-Bridge | 1200 V | 175 A | 8 mΩ | Gen 3 MOS + Diodes | 150 °C | 105 x 62 x 31 mm | |
| | | | | 62mm | Half-Bridge | 1200 V | 175 A | 8 mΩ | Gen 3 MOS + Diodes | 150 °C | 105 x 62 x 31 mm | |
| | | | | 62mm | Half-Bridge | 1200 V | 300 A | 4 mΩ | Gen 3 MOS | 175 °C | 105 x 62 x 31 mm | |
| | | | | 62mm | Half-Bridge | 1700 V | 310 A | 4.29 mΩ | Gen 3 MOS + Diodes | 150 °C | 105 x 62 x 31 mm | |
| | | | | 62mm | Half-Bridge | 1700 V | 310 A | 4.29 mΩ | Gen 3 MOS + Diodes | 150 °C | 105 x 62 x 31 mm | |
| | | | | 62mm | Half-Bridge | 1200 V | 350 A | 4 mΩ | Gen 3 MOS + Diodes | 150 °C | 105 x 62 x 31 mm | |
| | | | | 62mm | Half-Bridge | 1200 V | 350 A | 4 mΩ | Gen 3 MOS + Diodes | 150 °C | 105 x 62 x 31 mm | |
| | | | | 62mm | Half-Bridge | 1200 V | 400 A | 3.25 mΩ | Gen 3 MOS | 175 °C | 105 x 62 x 31 mm | |
| | | | | 62mm | Half-Bridge | 1200 V | 530 A | 2.6 mΩ | Gen 3 MOS | 150 °C | 105 x 62 x 31 mm | |
| | | | | 62mm | Half-Bridge | 1200 V | 530 A | 2.6 mΩ | Gen 3 MOS + Diodes | 150 °C | 105 x 62 x 31 mm | |
| | | | | 62mm | Half-Bridge | 1200 V | 530 A | 2.6 mΩ | Gen 3 MOS + Diodes | 150 °C | 105 x 62 x 31 mm | |
XM3 Half-Bridge Silicon Carbide Power Module Family
No filters selected, showing all 5 products
XM3 Half-Bridge Silicon Carbide Power Module Family - Filter By
XM3 Half-Bridge Silicon Carbide Power Module Family
RDS(ON) at 25°C

Maximum Junction Temperature

XM3

Half-Bridge

1700 V

320 A

3.5 mΩ

Gen 3

175 °C

80 x 53 x 19 mm

XM3

Half-Bridge

1200 V

400 A

4 mΩ

Gen 3 MOS

175 °C

80 x 53 x 19 mm